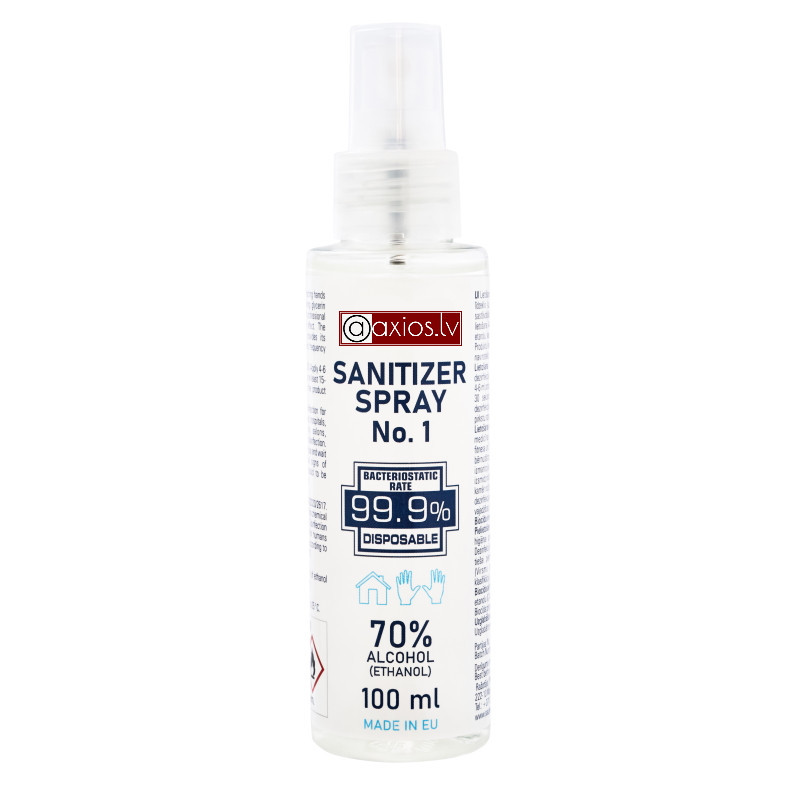  
Hands sanitizer spray Nr.1
Ready-to-use hand and surface sanitizer (alcohol-based, contains glycerine and other ingredients).
Designed for professional and consumer use. Antibacterial action. The solution contains ethanol, which provides antibacterial properties.
Use for hand disinfection: for hygienic hand disinfection according to EN 1500. Apply 4-6 ml of the product to your hands and RUB it into your hands for at least 15-30 seconds (until it dries). Make sure that the disinfectant completely covers the nail plate and the skin of the hands between the fingers.
Use for surface disinfection, Pour into a spray bottle, apply to the surface and wait for it to dry completely. If there are any visible dirt on the surfaces, they must be cleaned before disinfection.
Use the product as needed, the frequency of use is not specified.
Biocide inventory number: LV30032020/2617
Types of application: product Type 1. Biological substances for human hygiene. Product type 2. Disinfection products and algicides that are not intended for direct use on humans and animals (surface Disinfection according to the classification of biocides).
Biologically active substance: 100 ml of the product contains 70 ml of ethanol (CAS No.: 64-17-5; EK No.: 200-578-6).
Biological form: liquid
Storage: Store at a temperature between 5oC and 25oC.
Volume: 100 ml